Attention after two years of amazing creations Monster of the Month is NO MORE! Distortions Unlimited continues to create masks, animatronics, props and displays as it has for over 35 years. To see our full line of products visit our website. www.distortionsunlimited.com




The Monster of the Month Membership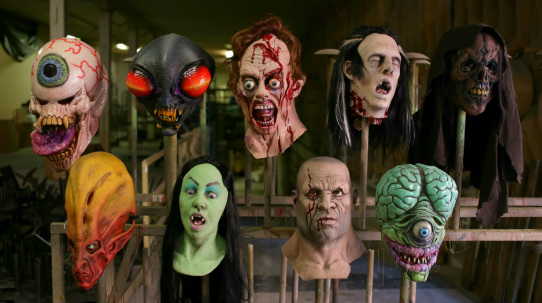 Here's how it works. Subscribe to The Monster of the Month and a unique creation will be shipped to you each month. This is your life with a monthly, main line injection of Monsters! Aliens...Vampires...Zombies... Mutants...Dragons...Corpses...Body parts...and of course Monsters! All are created from start to finish at Distortions Unlimited, designed and sculpted by some of the best monster makers out there. Ed Edmunds, Jordu Schell, Mikey Rotella, and a host of guest sculptors. Your monster will arrive with its own life story, written by it's creator. Each monster is an instant collectible! Only subscribers will receive each months creation, and then the molds are DESTROYED!
Get your very own Monster of the Month Subscription now! OR...Give the
GIFT
that keeps on SCARING!!! You will receive your first monster the FOLLOWING month after you sign up so plan ahead.
ATTENTION! The LAST Monster of the Month creation will be December 2016 (will ship the first week of Jan.)! Collect while you can.
---
If you are buying this as a gift for someone, click here for printable
GIFT CERTIFICATE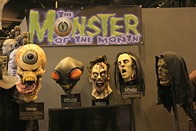 This is a display of the first 5 Monster of the Month creations
in order from left to right. Each creation comes with its own
card with the name of the creation, along with a short story
by the artist. An artist bio is also included on the back of the
card.

---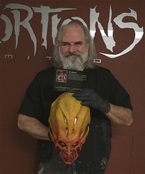 Distortions Unlimited
owner, Ed Edmunds, holds "Beldorian." Ed was both
the sculptor and painter of Beldorian and is holding it along with the artists card.
Every Monster of the Month comes with a card that includes an artist profile on
one side and a description of the monster on the other side. Ed grew up loving
monsters and sculpted his first full head mask at age 14.

---
This Elf is delivering a special Monster of the Month package! Imagine getting a package like this in the mail every month, full of a surprise creation. The Monster of the Month subscription is also a perfect gift! You can get 3, 6, or 12 month subscriptions. To download the printable
gift certificate click here.
---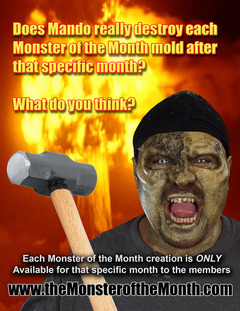 Each Monster of the Month creation is only available for that specific month to the members!

---